Why will you travel to Kazakhstan?, it was the main question from my friends when I said that I will spend my holidays there. In fact, I didn't know what I answered…
The choice started last summer when my boyfriend and I were planning our holidays. He proposed to me "Kazakhstan", and my response was "kaza… what?". I told him to delete the idea, it wasn't an option! Finally, we decided to travel to India, but the karma came to me some weeks after our discussion. My older sister told us she had to move to Kazakhstan this summer for some months. I couldn't believe it, and my boyfriend was so excited!
So, this summer we decided to spend our holidays in Kazakhstan to visit my sister and travel around the country. After visiting it, I can only tell you I fell in love with it.
I truly feel that it is one of the most awesome destinations that I have ever been. I loved – and love- Kazakhstan because of the people, the desert, the mountains, the quietness, … All is unknown and … Unexpected!!
I'm pretty sure that – now- you'd like to know why you should to travel to Kazakhstan, and I want to tell you some reasons to convince you.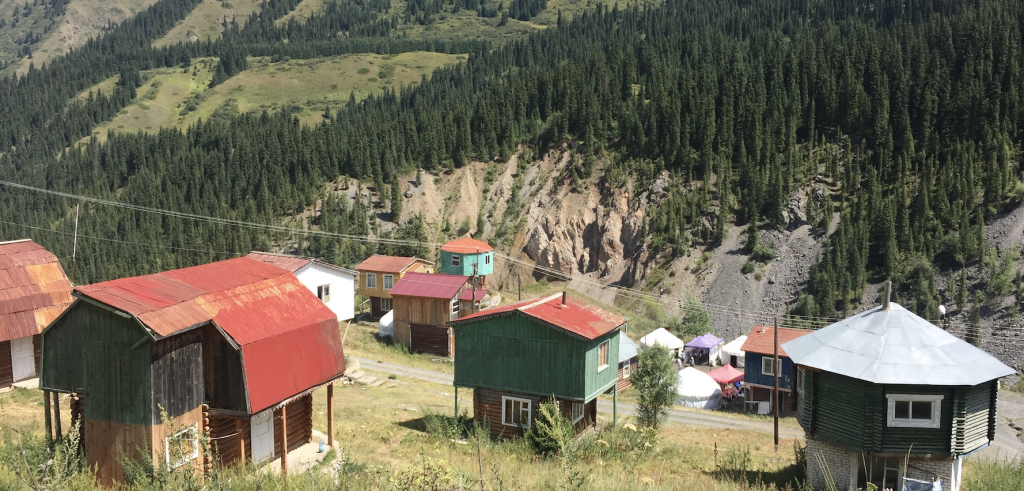 Let me tell you some key items about Kazakhstan. Frankly, I doubt you won't include it in your list next summer.
#KeyItem1: Unknown and Not Touristic Destination
It means that hardly anyone travel to Kazakhstan. We traveled around the country and we came to think that we were alone!
The best of it is we could discover the authentic country and people (not a country transformed through tourism).
And you become aware it is not a touristic destination when you try to find a postcard. They don't exist!
#KeyItem2: Mountain, desert and plenty of Natural Parks
Without doubt, the landscape is really awesome. I recommend you to fly to Astana and rent a car and get lost.


The main attractive places are:
Sharyn Canyon, 200 km east of Almaty. It is a magic place! We really loved it and we decided to go back some days after visiting it. We spent a night in the yurts inside the canyon. It is quite a touristic plan, but only touristic if we talk about Kazakhistan! It is more expensive than other plans (around 20 euros person/ night).
Kolsai and Kandy lakes, 280 km east of Almaty and after Sharyn Canyon. We spent a few days there, in Saty Village. It is an authentic and small village, located between the lakes. I recommend you to spend some days there, there are some guesthouse and you can go to the lakes and spend the day. Beyond a doubt, It was the most authentic experience in our trip. And the lakes are so wonderful, you mustn't miss it!
Altyn Emel National Park, close to Lake Kapchagai and Almaty, it is about 4600 square kilometers between. The Park consists mostly of desert and rocky terrain, you could drive for hours without anybody. It is very peaceful!
The best attractions are the singing sand, the famous dune for the noises it produces, Aktau canyon and Katutau volcanic mountains. You could discover it by yourself – with your rented car -, but I recomend you to book a personal guide.
There are other -natural- places that you'd like to discover, I only recommend you the ones that I have visited.

*If you decide to rent a car – I hardly recommended you – you need to know it is not an easy task. Don't rent it by internet. You have to go to the rental car in Almaty. Keep calm and take your time, because it could be some days of negotiation.
#KeyItem3: People are so cute!
Nice, polite, a good hosts, happy, authentic, modest, natural … I really love them. I honestly feel that they are the best hosts that I have ever had.
It is not a touristic country. On the contrary, there are no tourists anywhere! That's the main reason why they love you.
#KeyItem4: Cheap
Kazakshtan is not India or Thailand, but it is really cheap.
One pint of beer in a magazine – local shops – is less than 0,5 euros, and 0,8 – 1,5 euros in a bar.
Breakfast, lunch or dinner is around 1-2 euros per person.
A night in a hostel or guest house is about 10 euros per person – it is the average price that we paid-.
For this reason, you won't spend a large budget. Besides, it is a basic country – in the sense that you won't buy many souvenirs, because there aren't any!-.
#KeyItem5: An interesting russian and asian mix
Many people ask me how Kazakhstan is. Is it like Asia? Is it like Russia? As far as I'm concerned it is a mix of both of them. Cities are like asian cities without crowds and dirt everywhere. And, cities and villages reminded us of ex soviet countries: grey buildings, big avenues,… You need to discover by yourself!!
#KeyItem6: Don't plan and let live.
We tried to search info about Kazakhstan before travelling and we found a little bit. We weren't sure about the options and plans. There wasn't anything on the Internet.
Now, I can recommend you to plan only a few days, take time to rent a car and let live around the country.
You will find a lot of authentic options, and cheap prices. There are yurts and guest houses everywhere. I can't share with you any information because they are not on Internet.
Shall we travel to Kazakhstan!
** I decided to title this post "what I talk when I talk about Kazakhstan" in honor to Murakami and his book "what I talk when I talk about running". It was the book that travel with my this time 😉