If you asked me why I love Gazpacho, I could tell you endless reasons…
It is the perfect recipe in our Summer time. It is easy, cheap, healthy and sophisticated. Doubtlessly, it is absolutely awesome!
It can be a drink, an appetizer, a tapa, a dip, a sauce or seasoning, a starter, a main dish, even a dessert. We can eat it at any time of the day and at any time during a meal. It is perfect for a picnic Day, in a cocktail, to take away, as your daily meal (tupperware),… Could it be more perfect?
Spaniards love it. It takes to a multitude of variations for all kind of tastes. It could be a classic gazpacho, or it could be a watermelon or a melon gazpacho. But, if you want a classic gazpacho you have as many recipes as there are families are in Spain – because it is believed that there are so many varieties of gazpacho cooks.
Without a doubt, it is one of the most importants inventions that we have. The rule is there are no rules. Your gazpacho will be unique.
For this reason I`d like to share you my red recipe. Because there is a gazpacho recipe for each gazpacho cook… Here you have my special one…
---
My Red Gazpacho Recipe:
Ingredients
1kg ripe Tomatos
1/2 Spanish onion, coarsely chopped
1/2 cucumber, peeled and chopped
1 Golden apple chopped
1-1/2 red Pepper chopped
1-2 clove of garlic chopped
2-3 tablespoons Olive Oil
Some water and salt, to taste
Reserve the olive oil, and mix all the ingredients in a bowl and purée on high until everything is well blended – you can use a blender too-.
Finish by adding the olive oil and mixing it in with a spoon.
---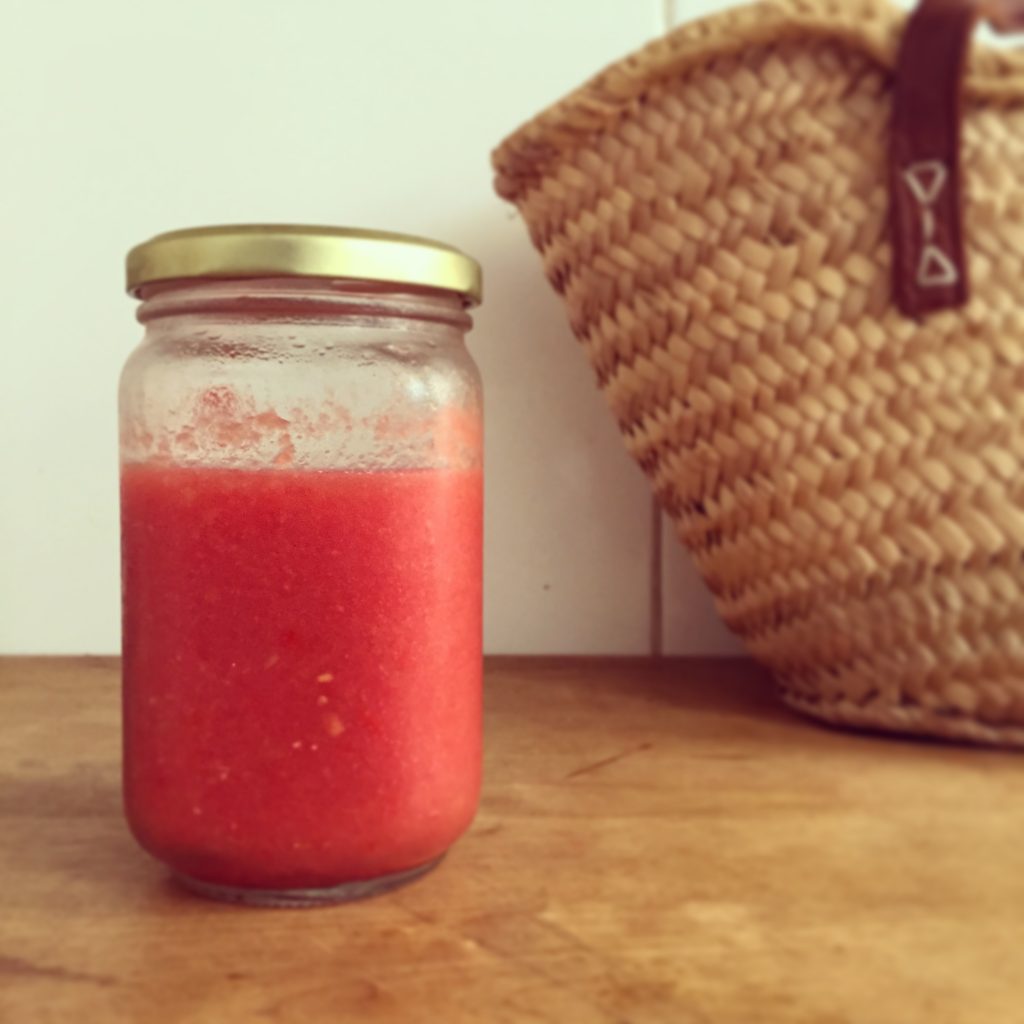 To end with, I'd like to recommend you go with the flow, and try out your own and new ways of making gazpachos. Experiment with different kinds of tomatoes, with or without Pepper, Green or red, melon and watermelon, different extra-virgin olive oils,… Make it yours and share your recipe!