I like enjoying the new season's flavours, and the Autumn is a great season that gives us new and really delicious flavours.
Today, I would like to talk about my new discovery: sweet potato. Maybe, you already know it, but I didn't use to eat it when I was a child because it is not common in my home place. In Catalonia, where I live now, we can find it everywhere during these months (October and November).
Since I tried it, I want to use it in my recipes! And the best thing is that you can do many different and really tasting plates: chips, creams, omelets, … Try to change potatoes for sweet potatoes and you'll taste a new and tender recipe.
---

Sweet potato soup with coconut milk and ginger:
This is one of the best sweet potato recipes that you should try. It is really easy…
Ingredients:
(recipe for four)
2 Tablespoons extra virgin olive oil
3 big sweet potatoes(diced)
1 fresh onion (diced)
1 tablespoon fresh ginger (grated)
1 teaspoon cumin
Sea salt (to taste)
4 cups Water (you can use vegetable or chicken stock)
400 ml coconut cream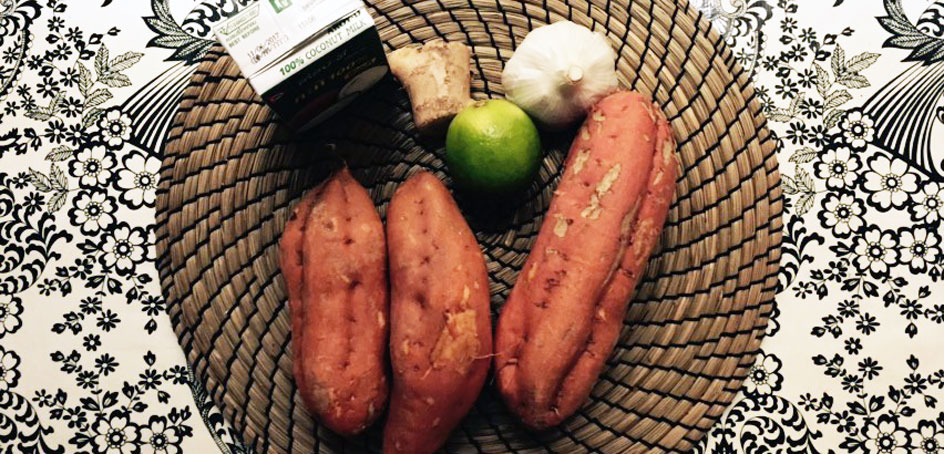 Recipe:
Heat 2 tablespoons of extra virgin olive oil in a large pot. Saute the fresh onion (diced), the fresh ginger and the cumin for some minutes until onion becomes translucid. Then, add diced sweet potatoes and cook it for two minutes. Add about 4-6 cups of water and simmer until sweet are tender.
Let the soup cool a little and puree. Return the mix to the pot and add the coconut cream and cook it 5- 10 minutes.
Try the soup and adjust salt if necessary.
Enjoy your new fall recipe!
---
And what about its benefits?
If you need more reasons to try it, you have to know that Sweet potato has some healthy benefits appart from its delicious flavour.
It is calming for stomach and anti-inflammatory.
It is easily-digestive and full of fiber, (it has much more than common potato).
It has some heart-healthy benefits and, also, regulates our blood sugar levels.
…
If you haven't tasted it, you should go to the market, buy some, and prepare your new and sweet fall recipe.
---